On Sunday, April 3, 2022, the People's Democratic Party ( PDP) critical stakeholders from Ikwuano/ Umuahia LGAs, viz; Umuahia North, Umuahia South and Ikwuano that make up Ikwuano/ Umuahia Federal Constituency has presented PDP nomination and expression of Interest forms to the Speaker of Abia State House of Assembly, Engr. Chinedum Enyinnaya Orji, urging him to step forward and represent the constituency come 2023.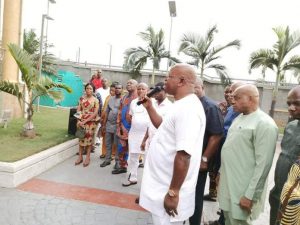 The spokesman for.the group, High Chief Pastor Emeka Inyama ( Ohamadike) says, having done well as a legislator par excellence in the state House of Assembly, it can only be nice to encourage him to keep speaking for his constituents at the green chambers.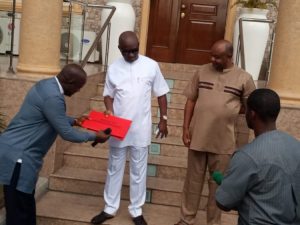 Hear him "We feel concerned that you should continue speaking for us despite the call by the youths for you to run for the Governorship election which you are qualified to run.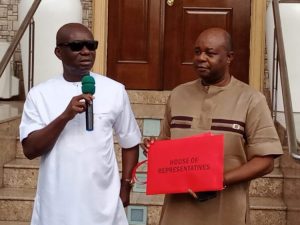 " We have a different plan for you and we are appealing to you to accept this call because of the good work you have been doing as a law maker.
"As the speaker of the state Assembly, within few months in office you gave a touch to the House of Assembly building and its Secretariat, making it look like a small London.
"You have continued in your youth empowerment programmes across the three Local Government Areas in our constituency, not your state constituency alone.
"It's on record that you have built a facility called " The stadia" across the three Local Government Areas, not in your constituency alone, each of the facility has a sitting capacity of one thousand people and I make boast to say that great footballers will rise from this part of the world and families will be blessed in two or three years from now.
"We are also aware of the stability you brought to the House of Assembly and the support you have given to Governor Okezie Ikpeazu.
"Therefore it's our considered wish, view and consideration that this chance will not pass us by, we have met, discussed and agreed to call on you to run for the House of Representatives.
"In other climes, people who were speakers moved to the Senate, House of Representatives and others became Ministers, we said, it's time for us to begin to promote our own, because it's not right to stop people at the prime of their political career".
"We believe that going to the House of Representatives will give you the platform to continue the good works you are doing, we know you will not forget the youths, women and the elderly."
"You will use your God given talents to work for our people, so that our constituency will be like others. People from other constituencies are feeling the impact of those representing them but we are not feeling any here.
"We believe that you have the capacity and leadership acumen to do it, and God will bless you. You're still young and future is even brighter".
In his response, Rt. Hon. Chinedum Orji said his number one priority is for Abia State to remain united and peaceful, urging aggrieved politicians in the state to sheathe their swords.
He added, " While i have not decided not to run for any office, i never knew that the stakeholders were conspiring to buy form and bring me to the campaign field,'.
He therefore begged them to give him 48 hours to consult other stakeholders, women and youths.
Rt. Hon. Chinedu Orji said it is necessary that he consults widely before accepting their request, saying, he is not desperate for power but believes in division of labour.
He commended the group for the forms, expressing optimism that, in the coming days, he will issue a statement after his consultations.
Mr. Speaker insist the three LGAs of Ikwuano/Umuahia is the deciding factor in Abia politics, and stressed that the various insults on people of Umuahia extraction, do not hold waters as his people are not known for banters with anyone, but urged them not to involve in it.
The highpoint was the presentation of the forms by the Member representing Umuahia South State Constituency in Abia State House of Assembly, Hon. Jerry Uzosike, to the Speaker.
Notable stakeholders that were present are;- Chief Charles Ogbonnaya, Sir Emma Nwabuko, Hon Wisdom Ogbonna, Chief Mrs. Ngozi Orji, Sir Lucky Akabuike, Sir Tony Ezebuiro, Mr. Christmas Nkume, Hon. Williams Ukatu, and Chief among others.
For publication of your news content, articles, videos or any other news worthy materials, please send to newsmirror14@gmail.com. For more enquiry, please call +234- 808-050-9464 or whatsapp. To place advert, please call +234- 808-050-9464.