The Senator Representing Abia South Senatorial zone and the Senate Minority leader, Sen. Enyinnaya Harcourt Abaribe has formally declared his intention to run for the Governorship seat of Abia State in 2023.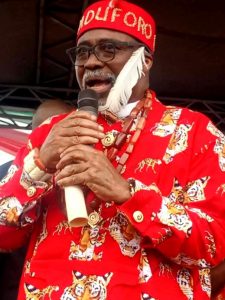 Addressing the People's Democratic Party (PDP) State working committee and other party members at the PDP office in Umuahia on Friday, 24th February, 2022, Sen. Abaribe tasked Abia PDP on the need to pick the best that has the experience capacity, intellectual ability and the integrity to win election for the party.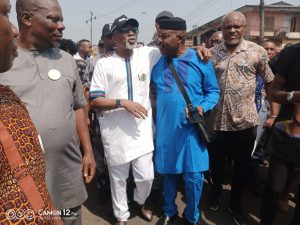 He said "With the signing of the Electoral Act into Law by President Muhammadu Buhari, there's no short cut to winning elections expect by fielding someone who has the ability to win elections". He made references to sections 50 and 80 of the Electoral Act and reminded party faithful that PDP lost the 2015 election despite everything at it's disposal as a result of the party's inability to field strong candidates.
"The bitter history we have to learn from it is that; we lost the Presidency to the All Progressives Congress (APC) despite having Governors in 23 states PDP was controlling before the elections. The bitter truth is that, we lost because we did not field strong candidates.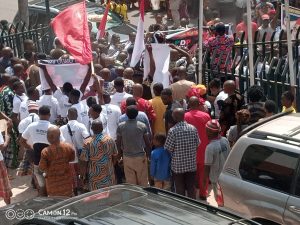 "I have been an asset to PDP; I have been everything PDP and has sticked out my neck to fight and defend this party, even before i became a Minority Leader and at a period when people were afraid to talk
" I had told President Muhammadu Buhari, Mr. President, if you cannot protect we Nigerians, resign". I have delivered on my electoral mandate and my candidacy will assure victory for PDP in Abia state".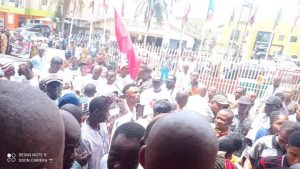 " I don't just want to be a Governor, I will be a governor for all Abians and the Governor every Abian will be proud of, if given the mandate. I will not discriminate South, Central or North because, I am Abia and a proud Abian".
Sen. Enyinnaya Abaribe promised to hold very dear his credibility and integrity that he has built over the years, while in office.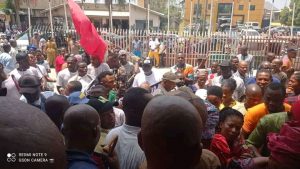 The Senate Minority Leader said he came on his own to declare and don't have any godfather, and appealed to the state working committee and members of the party to give level playing field to all aspirants.
"I have been doing my consultations, and that's why I came to the state working Committee of our great party to tell them of my intention to run for the Governor of Abia state in 2023. You are in the rightful position to pick who would carry the party's banner in the 2023 governorship election".
Earlier, Sen. Abaribe had made his intention known to Gov. Okezie Ikpeazu, the number one citizen of the state.
In his response, the Abia State Chairman of PDP, Rt. Hon. Alwell Asiforo Okere commended Sen. Abaribe for his steadfastness to PDP, describing him as an asset to the party, while assuring him of level
Paying field for all aspirants and expressing confidence that PDP will win Abia state in 2023.
For publication of your news content, articles, videos or any other news worthy materials, please send to newsmirror14@gmail.com. For more enquiry, please call +234- 808-050-9464 or whatsapp. To place advert, please call +234- 808-050-9464.