The lady has always been a thorn in the flesh of the Boko Haram insurgents following her exploits after joining the Nigerian military in dislodging the Boko Haram insurgents who have been terrorising many areas in the North-Eastern part of the country as the military has also acknowledged her exploits in the fight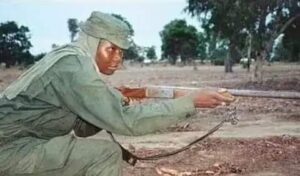 Aisha Bakari Gombi, the 40-year-old who was a fashion designer but abandoned her job to become a hunter and ultimately, a hunter who decided to fight the insurgents because according to her, "Boko Haram knows me and fears me."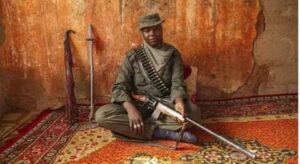 According to reports on her Facebook wall, Bakari Gombi, though from Adamawa State, was born in Borno State and grew up near the Sambisa Forest, the enclave of the Boko Haram insurgents, but when the insurgents attacked the area where she was living last year, she decided to give up her fashion designing job to join the military in dislodging them.
Reports said when the insurgents attacked Aisha's town, she gave up being a fashion designer, sold her sewing machine and bought a powerful rifle. Now she has joined the military to hunt for Boko Haram
According to the records of the Operation Lafiya Dole, the military operations against the insurgents, Aisha leads a command of men aged 15-30 who communicate using sign language, animal sounds and even birdsong and the band of hunters was said to have rescued hundreds of men, women and children from the captives.
She was also described by the Nigerian soldiers as the "Queen Hunter", a title given to her for bravery on the battlefield. Aisha and her band of hunters defend their communities.
Aisha was also said to have learnt about medicinal plants from her father and she used her expertise as a medicine woman to treat some of her fellow hunters wounded during battles.
She was single for many years until fate brought her to meet her husband, Muhammadu, during her fight to liberate children and women from the captives. She gave birth to her first child when she was 39 years old, according to reports.