Women for Change Initiative and Equity Organization ably lead by Lady Jane Ogbauta a renowned public affairs activist, Philanthropist and Human Capital Developer in conjunction with Restoration Movement today embark on a protest against incessant and unwarranted sexual molestation and harrasement of the girl child.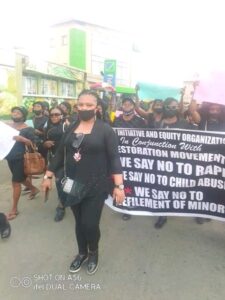 a
Lady Ogbauta who showed displeasure and dissatisfaction over the ungodly increase of rape cases, said we all are saying no to rape, Saying no to Child abuse and we are saying no to any defilement of a minor, Speaking further she said that the little girl on banner was raped by his uncle and also just yesterday a woman was raped by four men in Aba here.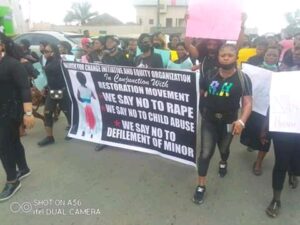 She also hinted to the newsmen that they are going to the house of Assembly in Umuahia to demand for a bill to penalize any rapist found culpable..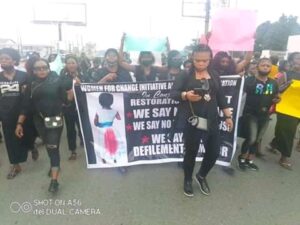 Recall that Lady Ogbauta came into the limelight last year with her famous Aba Women Riot after 90 years, where she and her group demanded for more dividends of Democracy from the Abia State Government.
Most people who spoke to Newsmen decried the risen cases of rape in the country and call.for all proactive measure to stop such an ill wind that blows no one any good.
Newsmirrorng.com