The Leader Of INRI Evangelical Spiritual Church, Primate Elijah Ayodele said Ahmed Wase is the best candidate for the position of the next House of Representatives speaker.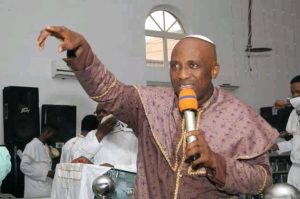 In a statement signed by his media aide, Osho Oluwatosin, Primate Ayodele predicts that the opposition parties in the house can put up a good fight in the race but they will be divided because of money.
He stated that the coalition between them will not work.
The cleric added that the best candidate to become the next House of Representatives speaker is Ahmed Wase, the current deputy speaker.
''If the opposition parties put themselves together as expected, they will shake the speakership race but there will be division among them because money will separate them. Money will make them not come together to produce a good candidate. The proposed coalition among opposition parties in the House of Representatives will not work. The deputy speaker, Ahmed Idris Wase is the best Candidate. He will stabilize the house.''
Primate Ayodele further reiterated his prophetic revelation on the senate presidency.
He explained that Orji Uzor Kalu is the best candidate because an Igbo person who is also a Christian will balance the political situation.
''I still maintain that the best candidate for senate president is Orji Uzor Kalu. If he loses it Igbo will be in trouble. The Igbos in the house will make it difficult for him but to balance the situation, an Igbo person and a Christian is better. A Muslim emerging as the next senate president will lead to crisis, there will be so much rowdy session and disagreement in the house''