It was a sunset at dawn for an innocent motorist who was carrying foodstuffs in Umuikaa Isiala Ngwa South today as way of cushioning the effects of Coronavirus pandemic in the people. Little did he know that today is going to be his last day.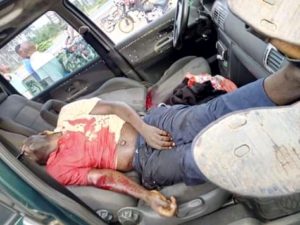 Very painful is that nobody has been diagnosed with the dread Coronavirus pandemic ailment in Abia but the Security Attachés have killed more in the process of enforcing the laws to curb down the widespread of COVID 19.
Just last week a Petrol attendant was murdered on a cold blood by a police officer, just yesterday a journalist was intimidated, harrassed and molested despite that he is on a essential duty.
Who did we really offend in this country?
Does it mean that our men on uniform lacks professional training?
Does it mean that they lacks human conscience.
Law is made for man not Man for the law,
The Sabbath was made for man, not man for the Sabbath.